Wedding Ceremony
Two o'clock in the afternoon
Saint Theresa Roman Catholic Church, Trumbull, Connecticut
Reception
Our reception will be held at The Fox Hill Inn in Brookfield, CT from 6pm-11pm.
This secluded Connecticut mansion-style home welcomes its guests in grand style with original, 200-year-old fixtures and a two-story marble foyer featuring a sweeping staircase.

~The Fox Hill Inn
257 Federal Road Brookfield, CT 06804
Phone: 203-775-0089
Hotel Accommodations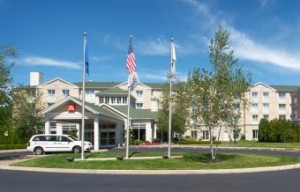 A block of rooms with a preferred rate have been reserved at Hilton Garden Inn in Danbury, CT. Rooms are available for Thursday thru Sunday nights (Sept 6 – 9). Please remember to use the Group Code BHW, and to make your reservations by August 16, 2012! 🙂 
The Hilton Garden Inn is 8.9 miles from The Fox Hill Inn. Check in is at 3pm, and check out is at 12pm. 
Hilton Garden Inn, Danbury
119 Mill Plain Road, Danbury, CT
Phone: 203-205-2000